Team Authentic Myanmar's Participation in the Public Awareness Campaign of UMTA
Organized on Sunday, 07 Feb 2016
Team Authentic Myanmar participated in the "1st Public Awareness Sticker Campaign" organized by the Union of Myanmar Travel Association held recently in Yangon.
During this mass action more than 150 members of the tourism community participated and circulated awareness raising stickers against public nuisance actions such as jumping the queue, spitting, smoking in public places etc.. among taxi drivers, public transport workers and tourist vehicle rental enterprises. Stickers were also posted on public buildings and hotels too for the benefit of the general public.
This public awareness campaign is the first of its kind organized by UMTA with plans to follow up with similar campaigns at other popular tourist sites around the country.Tentatively, similar campaigns are planned to be held in Bagan, Mandalay and Shan State on February 12th. Other popular tourist sites, such as Mawlamyine, Hpa-an and Kyaikhtiyo will be following later.
Team Authentic Myanmar is proud to announce that it is ready to participate in other public awareness campaigns organized by UMTA as part of its "Corporate Social Responsibility" process.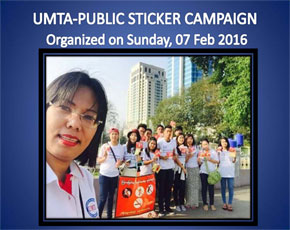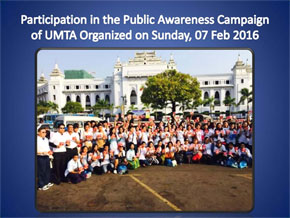 ---
Related Social Activities
Ka Htain Robes Offering
November 1st, 2019
Ka Htain Robes Offering
See More >>
Water Purifier Donation
December 7th, 2018
Water Purifier Donation to B.E.H.S (1) Dagon
See More >>
Flood donation (Bago)
August 9th, 2018
Donation to UMTA CSR Foundation for flood donation (Bago)
See More >>