Our Company Profile
Our Vision
Sustainable tourism can protect the country's natural and cultural riches and create economic opportunity.
Motto
"Discovery and Authenticity."
Mission
Avoid Negative impact; improve human resources commitment of authenticity through travel and tourism.
Our Strategy
Through our cooperate, social responsibilities and awareness of impact in tourism, government bodies, private companies, CSO and local communities can unite and use tourism to achieve the right balance between economic development, green growth, and protection of our natural and cultural assets.
"Sustainable Tourism" is our objective and will create "a remarkable responsible team" in Myanmar tourism.
Our Core Values
HSE: Continuous improvement in HSE Management
Team Work: We're at our best when working together to produce extraordinary results
Integrity (Trust): We deliver what we promise to our esteem customers and deliver what we promise
Strength: We aim to exceed our financial goals throughout the years.
Innovation: we're creative and brainstorming within the team is an essential part of solving the problems
Our Customers
Our primary customers are Europeans especially from French, English, Spanish speaking countries as our CEO speaks 4 languages and could make a direct dealing with the tour operators in Europe, Canada, USA et ASEAN countries.
Incentive, culture, educational trips and adventure tours are the primary types of our customers
Our Channel
French-speaking countries>>>We are dealing with two bigs tour operators in France, one big tour operator in Belgium, one in Switzerland and one in Luxemburg and one in Montréal, Canada
English-speaking countries>>> We are dealing with the tour operators in Turkey, Netherland and Norway
Spanish-speaking countries>>> We are dealing with the tour operators in Morocco, Spain and Mexico
Southeast Asian countries>>> We are dealing with one big tour operators in Laos, one in Thailand and some in Vietnam
Our competitors
4 French & 2 Spanish speaking tour operators in Tourism Sector are our primary competitors.
Even if the role of the tourism sector is functioning on tight profit margins, we achieve our expectation level because of our core values.
Our External Business Environment Analysis
Tourism in Myanmar is a double-edged sword. Political stability is the central part of developing tourism in our country.
Our state leaders keen to understand that Tourism is a sector which can increase the income and grow the middle class of our nation. (Ref: Myanmar Tourism Conference, Naypyidaw)
Our Internal Business Analysis
2012-2015: Stakeholders have high expectation and growth of tourism
2016-2018: Country is still undergoing conflict and civil war Vs Risk Management
End of 2018: The favourable economics of policy reform
2019-2025: Expectation for Tourism development by working closely with Tourism Authorities
Our Positioning Map
Our office is located at
252, Yin Mar Myaing Street, Thuwana VIP-1, Thingan Gyun TS, P.O 11071, Yangon.
Strategy Formulation & Implementation
Cooperate planning among the team is our central part of the implementation process.
We focus on our brand in terms of environmental & sustainable guidelines
Strategic implementation
Our CEO makes understand the team how to maintain the brand and market to distinguish "Authentic Myanmar" from the competition and give it a reliable & reasonable selling proposal so that customer will choose us over the competition.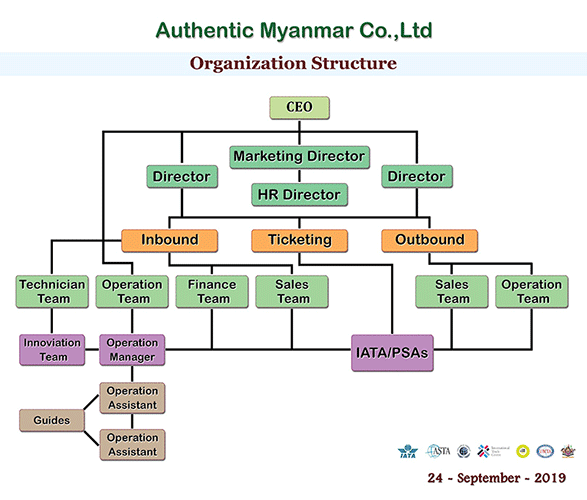 Action plan (2018-2020)
Our CEO voluntarily participates in "European Market Developing Committee" organized by the Ministry of Hotels & Tourism and Tourism Organizations
Our CEO is a General Secretary, BoD of ASTA, American Society of Travel Agents
Participation of Trade Show in Cambodia, MITM, October 2018 organized by MTM ( Tourism Organization)
Participation of Trade Show in Vietnam, Halong Bay, ATF, January 2019 organized by "ASEAN Market Developing Committee."
Participation of Trade Show in Spain, FITUR, January 2019 organized by "European Market Developing Committee."
Will participate in a Road Show in Miami, ASTA Convention, August 2019 organized by "European Market Developing Committee."
Will attend ITB Trade Show in ITB-Asia, October 2019, Singapore.
New business development plan: Authentic Myanmar Online Ticketing
Development of Innovation in Tourism Sector: Please check on YouTube, Facebook, LinkedIn, Instagram: "Authentic Myanmar Travel & DMC"/"Authentic Myanmar OutboundTours."
Innovation ideas & program are to be continued